Northgate-backed Rob Austin and Handy Motorsport take first place on the podium in the last race of the season
The final instalment of the British Touring Car Championship was always going to be an exciting episode, not least as Handy Motorsport driver Rob Austin led the way for most of the final race, before clinching a decisive win in front of eventual championship victor Ashley Sutton.
After finishing ninth in the first two rounds at Brands Hatch this weekend, Rob managed to secure a second-place start on the grid in the last round, overtaking Mike Epps in position one on the first lap to take the front spot.
Rob managed to open up a comfortable lead for the majority of the thrilling race, despite the changeable weather conditions affecting many of his competitors.
Recognising the team effort, Rob explained: "We had some very difficult calls to make and all the credit goes to my engineer, Matt. Although I can report back to him on the conditions and grip levels on the track, I can't see what weather is coming, how warm it is, or if there is any wind from inside the car.
"So it's up to Matt to judge if it will continue to rain or how quickly the track will dry, he then needs to instruct the mechanics as to what tyres to put on the car as well as tyre pressures, and any set up changes required to suit the conditions. It's a difficult and very pressured job in those situations but he made great calls all weekend."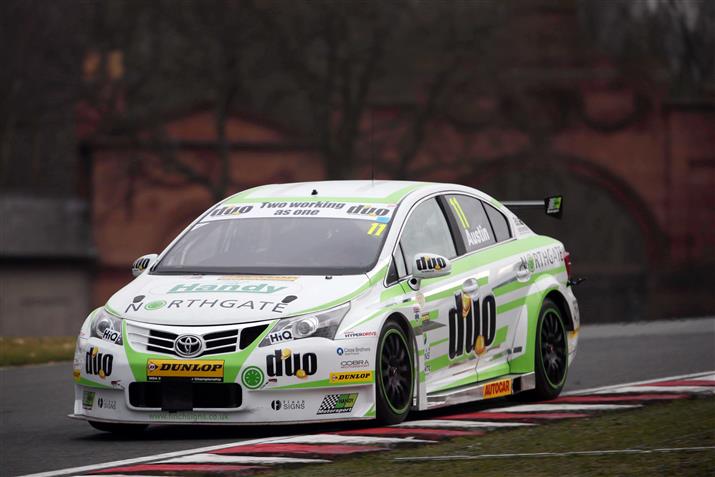 Fond Farewell
The win was the third for Rob in the BTCC and his first with Handy Motorsport, which proved to be a fitting send off for his Toyota Avensis. As revealed in a previous blog, Rob will be bringing Alfa Romeo back to the championship after a decade-long absence by racing in a Giulietta next season.
"Of course, recognition for the Toyota is long overdue we feel. However, it was always a means to an end for us so we are more excited at the momentum this gives us as we prepare for the 2018 season and the introduction of our new Alfa Romeo Giulietta."
On his close relationship with Handy Motorsport, Rob said: "We are only part way through a long-term plan so whilst we are absolutely over the moon, we are not surprised and we expect to be doing a lot more winning in the future."

High hopes for 2018
After a challenging 2017 of highs and lows, is Rob looking forward to a short break before racing starts up again?
"Break?" Rob laughed, "This is where my work starts!"
He continued: "'Racing Driver' is the job everyone sees me doing but in truth, driving the car is only a small part of my commitments. I am very involved with the design and build process for the new Alfa Romeo and I am also in charge of the commercial side of the team."
As Northgate continue to sponsor and support Handy Motorsport into the 2018 BTCC season, Rob is looking forward to seeing what the future will bring, in terms of both his racing and his sponsorship deal.
He said: "Working with Northgate has been an absolute pleasure. We have been working together on many exciting projects to look out for. Watch this space."
Congratulations on your win, Rob, and good luck next season!