For two weeks each year, the world's eyes are on Wimbledon. It may be THE event to attend for tennis fans, but there's so much more to Wimbledon than the sight of Andy Murray, Roger Federer, or the Williams sisters in their brilliant whites.
For the 39,000 spectators that visit the All England Club every day during the fortnight, it's hard to escape the appeal of Wimbledon's most famous snack - strawberries and cream.
Did you know that during the event, 28,000 kilograms of strawberries and 10,000 litres of dairy cream are sold? That equates to over 2 million individual berries which would stretch for 37 miles if laid end to end. That's from Wimbledon to Reading!
Each Grade 1 strawberry is picked fresh from specially selected LEAF-registered farms in Kent and driven to Wimbledon for 5.30am each morning to be hand-checked, prior to the gates opening.
Transporting 140,000 servings of sweet, succulent fruit across the South East is a big job and here at Northgate, we have identified the best Euro 6 certified vehicles for the task that will also beat the congestion charge.


Small Vans: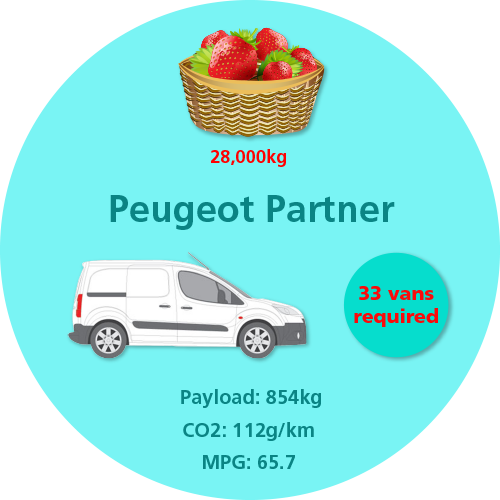 As a small, environmentally-friendly van, the Peugeot Partner L1 850 Professional will be the perfect vehicle small van to transport Wimbledon's punnets.
With a payload of 854kg, 33 vans will be required to transport the 28,000kg of strawberries throughout the event and with air conditioning as standard and a rear parking aid, the Peugeot Partner will ensure the delicate fruit will arrive undamaged>
Economical at CO2 emissions of 112g/km and an excellent 65.7 MPG, the Peugeot Partner is a small and nippy solution for driving the city.


Medium Vans: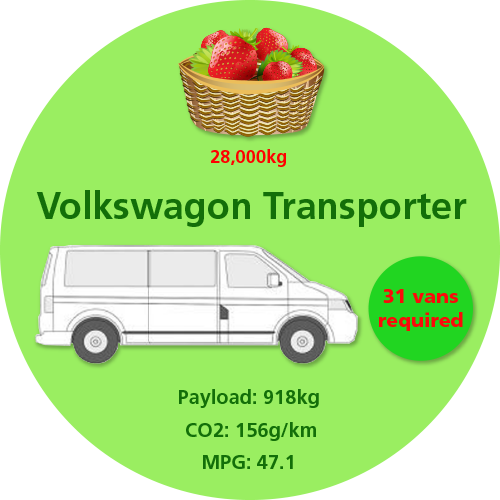 The Volkswagen Transporter T28 Startlineis one of Northgate's most popular vehicles and payload of 918kg for this medium van will ensure only 31 vans are required to transport the berries during the fortnight.
With a load width and height of 1700mm and 1635mm respectively, the fruit can be loaded and unloaded from the Volkswagen Transporter with ease. Due to its greater size, MPG is lower than that of the Peugeot Partner, but still at a respectable 47.1 and with CO2 emissions of 156 g/km.
With features such as Bluetooth connectivity, USB connection and DAB radio, the delivery person can keep up to date with Wimbledon as they carry out their important strawberry duties.


Large Vans: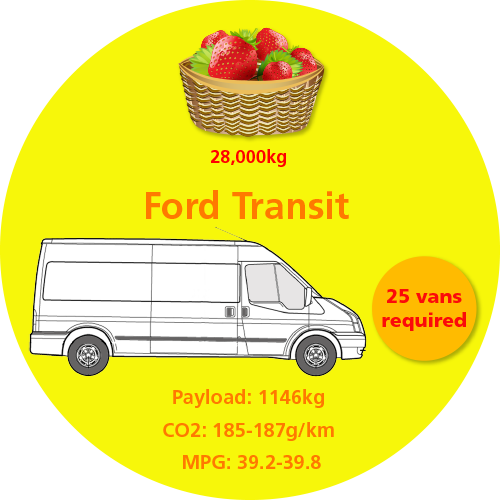 The Ford Transit L3H3 350 is the perfect large van for transporting the huge amount of strawberries to Wimbledon. This can be done in only 25 vehicles too, due to its payload of 1146kg and combined with its large loading spaces, it is the perfect solution for moving bulky goods.
Boasting impressive key features such as blind spot eliminator mirrors, emergency brake assist, hill start assist, roll stability control, and Bluetooth/USB/iPod connectivity, it's not hard to see why Ford is the bestselling van supplier in the UK.
The Ford Transit 350 also has CO2 emissions of 185-187 g/km and combined MPG of 39.2-39.8, meaning it is exempt from the London congestion charge due to its Euro 6 certification, despite its size.
Are you transporting something unusual?
Then we urge you to check out this blog post on choosing the right vehicle for your business.