Esso Card™ Fuel Card
for Businesses
A fuel card solution that gives money off the pump price.

Also available for YourFleet (non-Northgate vehicles)


Fuel Management - save on average 7p* per litre off Esso fuel
We have teamed up with fuel card provider, WEX Europe Services to offer our customers competitive prices on their fuel.
As a valued Northgate customer, you can apply for a FREE Esso Card™ fuel card (making an annual saving of £43 per card per year) you'll also save on average 7p* off per litre at Esso fuel stations, and a fixed saving of 0.4p* from Shell and BP.
You'll also benefit from an online account management tool, Velocity. This allows you to manage all your fuel cards, monitor usage and enables you to download HMRC compliant invoices, reducing your administration burden.
DOWNLOAD FACTSHEET
Here's what you could have saved last week…
Based on last week's UK average diesel price according to the RAC Foundation, Northgate Esso CardTM fuel card customers will have saved an average of…
pence per litre off Esso diesel fuel
The average saving shown is in pence per litre including VAT, saving is updated weekly and may fluctuate.
PRICE CORRECT AS OF 25/11/2023.
HOW IT WORKS
You can apply for a fuel card by completing the application form and WEX Europe Services will contact you within 48 hours
Once your application has been accepted, you should receive your fuel card and PIN within 5-7 working days
The fuel card must be used with a cashier (not Pay at Pump)
There is no need to keep receipts, the online card management system stores fuel invoices
You'll receive a weekly email specifying the price for fuel for the following week
You will be invoiced weekly for fuel used, and payment is by direct debit
Benefits
Save on average 7p* per litre off Esso fuel
Fixed saving of 0.4p per litre off Shell and BP fuel
Free of charge fuel card
Access to more than 3,500 fuel stations**
Improved cashflow with weekly direct debits
Reduced administration with online account management tool
HMRC Compliant invoices
Drivers collect Nectar points when they fill up at Esso Forecourts
*Terms and Conditions apply; please see below.
**Site numbers correct as at 01/10/2021 and includes Esso, Shell and BP sites. Data is based on customers average saving of 7p per litre from 1st January 2021 - 1st October 2021.
Sign up for Esso fuel Card
Terms and Conditions of Average 7 Pence per Litre Saving Offer.
1. This offer (the Average 7 Pence Offer) applies to all Customers who have their application for a fuel Card approved for Credit by WEX Europe Services (UK) Limited (WEX) when submitted by accessing the WEX landing page (whether the application is completed online or by telephone). 2. The Average 7 Pence Offer applies to transactions of Fuel using a Card within the United Kingdom and does not apply to any international transactions or purchase of Non-Fuel Products. 3. The saving will be based on a comparison of the weekly price issued by WEX and the national average price. It will not be displayed as a separate price item on any invoices or communications. 4. The Average 7 Pence Offer cannot be used in conjunction with any other offers. 5. This offer is only valid to Northgate customers and should the cardholder no longer be a Northgate customer, the customer will be moved onto standard pricing of WEX. This will be reflected on all invoices. 6. WEX reserves the right to withdraw or amend this promotion at any time. Other terms, fees and conditions apply to use of the fuel Card. Please see the WEX General Terms and Conditions for more details. 7. Data is based on customers average saving from 1st January to 30th June 2020. 8. This limited time offer applies to new customers of the Esso fuel card only. If you enjoy access to the Esso network already through one of their current providers, this offer does not apply. Any applications received via WEX where this service is already supplied will be rejected at the point of order.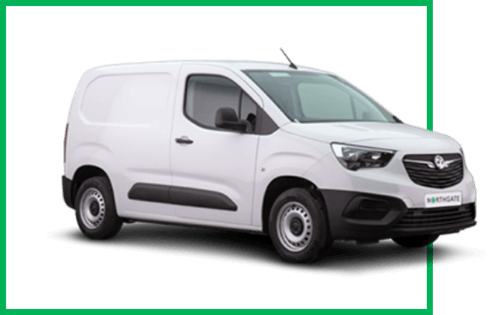 Looking for a business hire?
With over 52,000 vehicles available, choose from leading manufacturers such as Ford, Mercedes, Volkswagen, Peugeot, and Vauxhall.
Browse Our Range