The best small vans in 2021
Whether it's carrying tools from job to job or shifting stock across the city, small vans help keep millions of UK businesses on the move. And with today's lineup of models offering more in the way of clever stowage space and high-tech features than ever before, it shouldn't be too difficult to find a small van that's up to the challenge.
There is plenty in the way of options out there though, including everything from car-derived models through to hybrid and all-electric options that could help you ready your industry for the future. So, if this is all new territory for you and your business, we're here to help you determine whether a light commercial van is the right fit and if so, which models might tick all the right boxes.
Why should I choose a small van?
Small vans have come a long way in a short time. There were always great low prices to be found, but not always much in the way of handy features and comfortable finishes that would make the daily use of a small van a realistic option. But that's no longer the case. The small vans coming to market today boast smart ways of maximising load space, while offering plenty in the way of clever technology and top quality finishes among the higher trim levels.
Ultimately, the case for choosing a small van is about practicality and cost. The compact size and agile handling of a small van makes these particularly well suited to busy urban sprints. Many small vans offer a car-like driving experience yet provide plenty of space in the back, above and beyond the volumes their car model siblings can shift. Add to that features like parking sensors, collision warning technology and the increasing number of all-electric options coming to market, and these vans are ready for whatever the town or city can throw at them.
With a small van, you can avoid paying for cargo space you won't fully use and fueling an engine that's more costly to run than you need. If you have small volumes of stock or tools to be moving daily, and operate within a relatively local area, opting for a small van should help you keep a handle on your running costs.
What are the best small vans today?
Peugeot Partner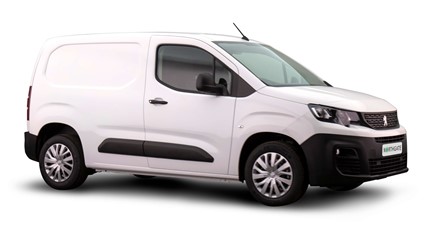 Payload: 625kg to 850kg
Range (electric only): Up to 171 miles (new model)
Load space: 3.3m3
The latest edition of the Partner arrived in 2018, and it hasn't taken long for the model to prove a hit with UK businesses. That may well be because of the raft of space maximising features on board that really push the capabilities of a small transit van, whether it's the clever through-loading bulkhead design, room for up to three adults or plentiful cabin stowage. There are two lengths of the model to pick from, as well as a crew van option with its additional row of seating in return for a slightly smaller load space. Not to mention an all-new electric version of the Partner for businesses with an eye on the future. But whichever suits you best, you can expect great tech like adaptive cruise control, blind spot monitoring and lane assist as standard.
Vauxhall Combo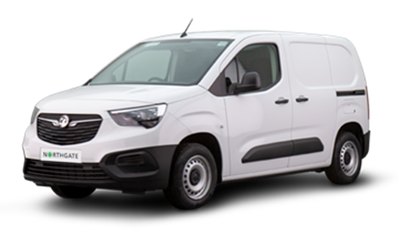 Payload: Up to 1000kg
Load space: 3.3m3 - 3.9m3 (or with Flex Cargo: 3.8m3 – 4.4m3)
Range (electric only): Up to 171 miles (new model)
With ample space for its size and a low floor, the Vauxhall Combo is one of the most functional vans in its class for storage and ease of access to any cargo. There are two lengths to choose from and the cabin area can be configured to suit a variety of needs. In terms of engine sizes, there are options available for whether you need power, fuel economy or a mix of both. There's also a fully electric option in the form of the Combo-e expected to hit the market in Autumn 2021. Overall, the Vauxhall Combo is a compact van with enough room and customisation options to make it a practical vehicle for a variety of commercial uses.
Ford Transit Connect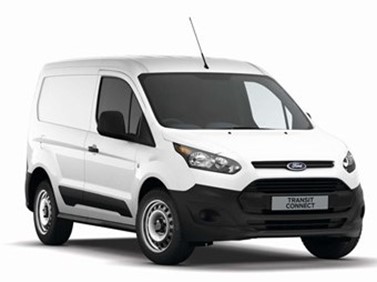 Payload: 595kg to 967kg
Load space: 2.9m3
 Available in four trims, single or double cab body style and both petrol and diesel engines, variety is the calling card of the popular Transit Connect. This means that the model can be spec'd to suit all kind of business demands, marking it out as a good all-rounder if you're looking for a small van. Load space is accommodating with the Transit Connect, though a smart bulkhead design on the longer edition allows the van to accommodate 8x4 sheeting. Fuel economy of up to 61.4 miles per gallon compares well with its rivals, and bonus features like lashing points and cargo area lining add to its practicality.

Volkswagen Caddy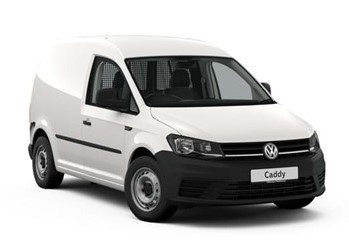 Payload: 582kg to 637 kg
Range (electric only): 160 miles (new model)
Load space: 3.2m3
The popular Volkswagen Caddy is offered in two sizes which will determine how much space you'll get in the back, and it's the smaller sibling you'll want to opt for if you require a small van. The design features a bulkhead above the cab to maximise load length, while there's the option of a five-seat Combi version if this suits the nature of your business. You'll have a raft of petrol and diesel engines to pick from with the Caddy, but if you're looking to ready your business for the future, you could always make the switch to electric with the e-Caddy. What's more, if you're interested in having all the latest tech onboard, you'll be pleased to hear the model is anticipated to see an overhaul by the end of the year.
Nissan e-NV200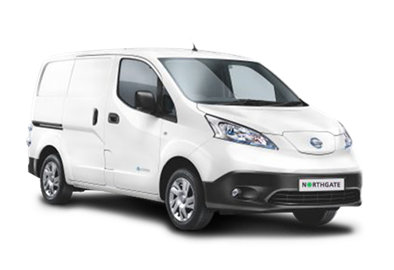 Payload: 658 kg
Range (electric only): up to 187 miles
Load space: 4.2m3
An excellent option for businesses looking to the future, the e-NV200 is among the UK's most popular all-electric van options around today. With plenty of load space for a small van and a driving range that rivals the very best around right now, there's no compromise on practicality here though. Charging can be done at home in around eight hours from empty to full, while rapid charging means you could extend your reach on the job with the battery replenishing by 80% in just half an hour. Not only will the e-NV200 ready your business for when the ban on new petrol and diesel vehicles kicks in 2030, but you'll enjoy low running costs with no congestion charges and zero road tax.
Ford Transit Courier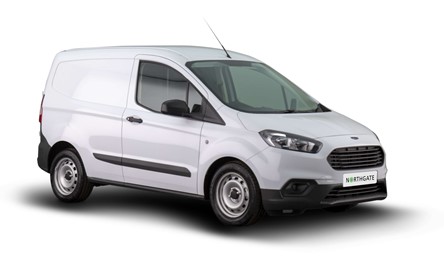 Payload: 595kg
Load space: 2.3m3
Offering much in the same way as the Connect when it comes to features and technology, the Transit Courier is the smaller sibling of the pair. It offers a single body length with the option of two seats or room for five in the Kombi variant, along with a slightly more limited range when it comes to trims and engines. With sliding side doors, split rear doors, a bulkhead, tie-down points and optional lighting, the load space is certainly practical and ample for shifting tools and materials from job to job.
How can Northgate help?
If you need to get small vans to keep your business on the move, but don't want any large upfront costs or to be stuck with assets you may not need in future, our van hire is here to help. At Northgate, we provide commercial vehicles through flexible hire from 3 months and minimum term hire up to 48 months. From van hire in Plymouth to Aberdeen, you can use our branch finder to see where you can find us across the UK, or give the team a call on 0333 0430 001.